Tomas Rios. I was going to include a picture of him, but then I realized: there aren't any. Actually, I don't think anyone knows what he looks like. He doesn't go to events. He doesn't interview fighters. All we know is that he's a writer for the largest US website devoted to the sport of MMA, Sherdog.
(Oh, and we know what his voice sounds like... Kind of really, really, gay.) Now Sherdog isn't a very popular website over at the Team Takeover forums. In fact, most of us despise the website and their writers.
Because I actually do know a thing or two about Tomas Rios. I know Tomas Rios is a very intelligent man... A man who likes to earn an extra dollar via betting on his favourite sport of MMA. There's just one problem: Tomas Rios doesn't know anything about that sport. Sure he's a writer for Sherdog and ESPN, but he always picks the wrong fighters in his event preview articles. He almost without exception describes the way he thinks a fight will take place in exactly the opposite way that it actually does take place. He does so the annoyance of many fighters, including Sean McCorkle and Rich Attonito. Tomas Rios even went so far as to thrash-talk Sean McCorkle AFTER the fight took place. So why the hell do I think Tomas Rios is an intelligent and nice fellow?
Quite simple: he does this on purpose. The thrash-talking of fighters is just to get attention. We know how much they increase PPV sales, so it's not entirely silly to assume they also increase his page views. All for one purpose: he's trying to deceive the casual, not so knowledgeable fan. Not everyone makes bets on MMA, but plenty of people do. Plenty of casuals, as well. And that's where his "atrocious" event picks come in. Let's just take a look at the last 5 events.
Ryan Bader
✓
Matt Serra
✗
Evan Dunham
✗
Jeremy Stephens
✗
His picks clearly are terrible for a paid MMA writer. Just 11 out of 25, and that's only predicting who won the fight. Any long time fan not named Tomas Rios would do better. However, that isn't conclusive evidence...
...but what if I had bet 10 currency on the fighter Tomas Rios didn't pick?
UFC 115

+23,00
UFC 116

+07,50
UFC 117

+15,50
UFC 118

+11,00
UFC 119

+33,78


TOTAL

+90,78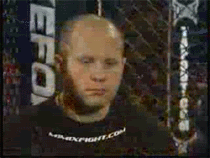 I think you can figure out what to do at the next MMA event on your own.
Respect the reverse oracle, e
njoy earning easy money!